As an accredited IBF training provider, CFA Society Singapore developed various IBF accredited programmes for the investment management industry since 2009. In October 2016, CFA Society Singapore appointed Kaplan Higher Education Academy to be the exclusive training provider for the CFA Singapore-IBF Accredited Programme (Level 1, 2 and 3). The programme is accredited under the Institute of Banking and Finance Singapore Standards Training Scheme (IBF-STS).
​CFA Society Singapore – ​IBF ​Accredited  ​Progra​mmes​
Fund Management Programme
(IBF Level 1)
Mapped to CFA Level 1
This programme helps participants to be equipped with broad base capabilities and foundational competencies to undertake new roles. This involves developing in-depth industry and functional knowledge of investment products, in order to provide qualitative and quantitative reporting to investors, thus assisting them to make investment choices.
Res​earch Programme
(IBF Level 2​/3)
Mapped to CFA Level 2
This programme helps participants to acquire applied knowledge and complex analytical skills, which are internationally-accepted valuation methodology and techniques for specialists or leadership functions. This helps to provide investors with the most accurate value estimation, projection and investment recommendation for the chosen investment product.
Research Programme
(IBF Level 2/3)
Mapped to CFA Level 3
This programme helps participants to demonstrate professional mastery and exemplifies thought leadership and commitment to industry. This involves making decisions about investment mix and policy that are aligned with defined investment objectives, risk appetite and asset allocation guidelines of the chosen portfolio based on specific client requirements, whilst complying with regulations and industry codes of conduct.
IBF Standards Training Scheme (IBF-STS)
​
This programme has been accredited under the IBF Standards, and is eligible for funding under the IBF Standards Training Scheme (IBF-STS), subject to all eligibility criteria being met. 
Candidates are advised to assess the suitability of the programme and its relevance to their business activities or job roles. IBF-STS provides

 

70% funding

 

for direct training costs

 

subjected to a cap of S$7,000 per candidate per programme subject to all eligibility criteria being met.
With effect from 1 July 2016,

 

Singapore Citizens aged 40 years old and above are eligible for 90% co-funding of direct training costs, subject to a cap of S$7,000 per participant per programme. For more information on funding, IBF Certification and Continuing Professional Development (CPD) requirements, please visit

 
www.ibf.org.sg
.
Self-sponsored Individuals
Non Company-sponsored participants are required to be Singapore Citizens or Singapore Permanent Residents physically based in Singapore.
Company-sponsored Individuals
Company-Sponsored participants are required to be Singapore Citizens or Permanent Residents, physically based in Singapore and staff of Singapore-based financial sector entities being sponsored for the programmes.
Note: 
Reimbursement of fund is subject to assessment and meeting minimum attendance requirements. 
Duration of each assessment ranges from 1.5 hours to 3 hours, and number of assessments are at the discretion of Kaplan Higher Education Academy Learning Institute and CFA Society Singapore
​
The IBF Standards represents a set of competency standards developed by the industry, for the industry. It provides a practice-oriented development roadmap for financial sector practitioners to attain the necessary training to excel in their respective job roles. 
Covering 12 industry segments spanning more than 50 specialisations, the IBF Standards offers a comprehensive suite of accredited training and assessment programmes to guide a financial sector practitioner from licensing examinations on through to professional certification across 3-levels: IBF Qualified (for new entrants); IBF Advanced (for senior practitioners and specialists); IBF Fellows (for industry veterans).
IBF Certification Process
Successful applicants will be awarded an IBF Certificate carrying a corresponding Certification Title – IBF Qualified and IBF Advanced.
IBF Qualified
This Certification Title describes its holder as a new entrant who is equipped with broad-based capabilities and foundation competencies to be ready to undertake new roles. It is certified via IBF Level 1 Programmes.
IBF Advanced
This Certification Title describes its holder as an experienced practitioner who has acquired applied knowledge and complex analytical skills for specialists or supervisory function. It can be certified via IBF Level 2 and/or Level 3 Programmes coupled with 3-15 years of experience.
​​​​​​​​​​​​​​​​CFA Program curriculum
​CFA Society Singapore and Kaplan Schweser have formed an educational partnership, combining the strengths of two great CFA® Program review and advanced financial education providers in Singapore. This partnership gives candidates flexibility in their individual study programs, access to the latest technology, expert instructors, and review courses.
 As a leading global provider of CFA Program education solutions for nearly 30 years, Kaplan Schweser has designed study packages to help you prepare for and pass the CFA exam.
​In-Person or Online Classes

Combine effective study materials, expert instruction, and a final review to provide you with maximum confidence.
In-Person or Online Classes


Receive expert instruction with our most popular CFA Program study materials to give you a solid framework to prepare, practice, and perform on the CFA Program.
Self Study​


Study at your own pace with this comprehensive CFA Program solution.
​​​​​​​​​​​​​​​​​​​​​​​​​​​​​​​​​​​​​​​​​​​​​​​​​​​​​​​​​​​​​​​​​​​​​​​​​​​​​​​​​​​​​​​​​​​​​​​​​​​​​​​​​​​​​​​​​​​​​​​​​​​​​​​​​​​​​​​​​​​​​​​​​​​​​​​​​​​​​​​​​​​​​​​​​​​​​​​​​​​​​​​​​​​​​​​​​​​​​​​​​​​​​​​​​​​​​​​​​​​​​​​​​​​​​​​​​​​​​​​​​​​​​​​​Online Schweser Mock Exam
​
Now that you have prepared and practiced for the CFA
®
 exam, you are ready to perform and put your skills and knowledge to the test. The Online Schweser Mock Exam is as close as you can get to the actual CFA exam in format, difficulty, and length. The Mock Exam helps develop your test-taking skills, identify your weak areas, and demonstrate your mastery of the CFA curriculum. Afterward, view answer explanations, check your score compared to those of other candidates, and drill deeper into each question with our Mock Exam Tutorial.
​
The Online Schweser Mock Exam includes:​  
Timed 

6-hour exam

 (two 3-hour sessions)

CFA Institute topic weightings
Printable answer key and online answer explanations
Online scoring and performance tracking by topic area with a comparison to other Mock Exam candidates
Answer explanations that include LOS and CFA curriculum page references for every question​
Cost @ S$100 (inclusive of GST)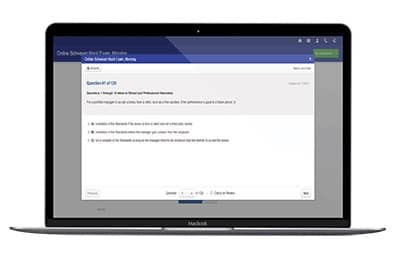 ​Take this compact book anywhere you go, printed or eBook, for a concise review of the CFA® curriculum. Secret Sauce® provides insights and exam tips on how to effectively prepare and apply your knowledge on exam day.
The first portion of this book offers concise, readable explanations of the major parts of the CFA curriculum by Schweser's team of expert authors. The second portion gives you essential exam strategies and guidance on how to pass the exam, including: 
Tips and tricks on how to apply your knowledge

Basic strategies and time management hints
A plan for the last week prior to exam day
Topic-by-topic listing of high-probability exam topics
Analysis of level-specific question styles
Printed or eBook @ $136.75 (inclusive of GST)  CFA Society Singapore members enjoy 10% discount​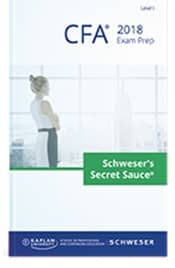 3-Day Online Review Workshop
With a balanced mix of CFA
®
 curriculum review and problem solving
With a balanced mix of CFA
®
 curriculum review and problem solving, Schweser's 3-Day Review Workshop is just the thing to get you exam-ready. After reviewing each topic of the CFA curriculum, instructors use problems and exam-like questions to help reinforce your knowledge, practice your exam techniques, and improve your exam-taking skill and speed. It's e
xactly what you need during the final weeks of preparation in order to build your confidence and perform effectively on the CFA exam
​
The Online 3-Day Review Workshop includes:
3 full days of exam preparation
Thorough review of key topics​​​​​​
Extensive work with practice questions and problem solving techniques
Instructor exam tips

 and strategies

Schweser's Secret Sauce®
Review Workshop Workbook Set
Schweser Review Workshop Mind Maps (Review slides)
Schweser Review Workshop Questions (Practice questions)
Cost @ S$529.10 (inclusive of GST)  
CFA Society Singapore members enjoy 10% discount​